Two large broadcasters — Colorado Public Radio and Denver7 — have joined forces to launch a new public affairs show focused on the "stories and experiences of underserved communities."
The 30-minute weekend program is called "Real Talk." Nathan Heffel of CPR News and Micah Smith, an anchor and social equity reporter for KMGH-TV, are the hosts. The first episode airs March 31.
From the announcement:
Real Talk will feature Heffel and Smith sharing stories focused on different social equity themes. The stories will be followed by interviews with community leaders and those impacted, going more in-depth on the issues. Each episode will also include a hopeful story.
"Nathan and Micah will bring forward stories that might not get told otherwise," said Kevin Dale, executive editor of CPR News, in a statement.
"Real Talk allows us to shine a light on underrepresented communities," added Dean Littleton, vice president and general manager of Denver7.
The joint broadcast initiative tracks a development among some other media organizations in Colorado to increase diversity, equity, and inclusion into news coverage.
In February, KUSA, Denver's NBC affiliate, created a new streaming show for 9NEWS+ called "Culture Report" that "explores stories that impact underrepresented communities."
In January, Colorado Media Project, which underwrites this newsletter, announced another round of $350,000 in grants that will flow to "support Colorado newsrooms, journalists, and media entrepreneurs in launching new projects and strengthening existing efforts to build a more inclusive local news ecosystem that reflects and serves Colorado's diverse communities." (The CPR/Denver7 "Real Talk" endeavor isn't included among the grants, but CPR did get $10,000 to establish a "baseline assessment for source tracking, identifying areas for improvement, implementing strategies to increase source diversity, and sharing lessons learned with other newsrooms in Colorado.")
Listen to the hosts of "Real Talk" discuss that very thing on CPR with Colorado Matters host Ryan Warner on Thursday.
In 2021, when researchers surveyed 150 Colorado journalists and journalism groups to determine how they felt about their coverage, only 40% said they thought newsrooms here are adequately addressing the needs of diverse communities. Respondents identified specific ethnic and racial groups — African-American, Latino/Hispanic, Native American — and immigrant communities they feel are "underrepresented in media coverage in both rural and urban areas."
In recent years, news organizations across the nation, and in Colorado, have apologized for their past harm and vowed to recalibrate their coverage and demographic makeup of their newsrooms to better reflect the communities they serve.
Colorado Public Radio, a nonprofit, has rapidly grown to become one of the largest newsrooms in the state; listeners, businesses and foundations make up roughly 95% of its funding. Denver7, the city's ABC affiliate, which is owned by E.W. Scripps Company, is also known by the call letters KMGH.
Colorado Public Radio and Denver7's "Real Talk" will air on the radio Friday afternoons; Denver7 will broadcast the TV show Saturdays at 5:30 a.m. and Sundays at 5:30 p.m., on Local3 Saturdays at 9:30 a.m. and Sundays at 6:30 p.m., and will stream anytime at Denver7+.
The two broadcast newsrooms with different owners have been working together for more than two years. For instance, you might have noticed Denver7 Chief Meteorologist Mike Nelson appearing on Colorado Matters with Warner each month to talk about the weather and a changing climate. Denver7's Micah Smith served as the emcee for a CPR holiday event.
Talking about the show on Colorado Matters this week, Smith said she looks forward to being able to go more in depth on certain stories. "Through 'Real Talk' we're able to go ahead and go down that rabbit hole," she said.
"Real Talk" will "lift up stories that need to be heard, with real — raw — honest conversations," Heffel said on social media. "I hope you watch AND listen — it's truly been a labor of love."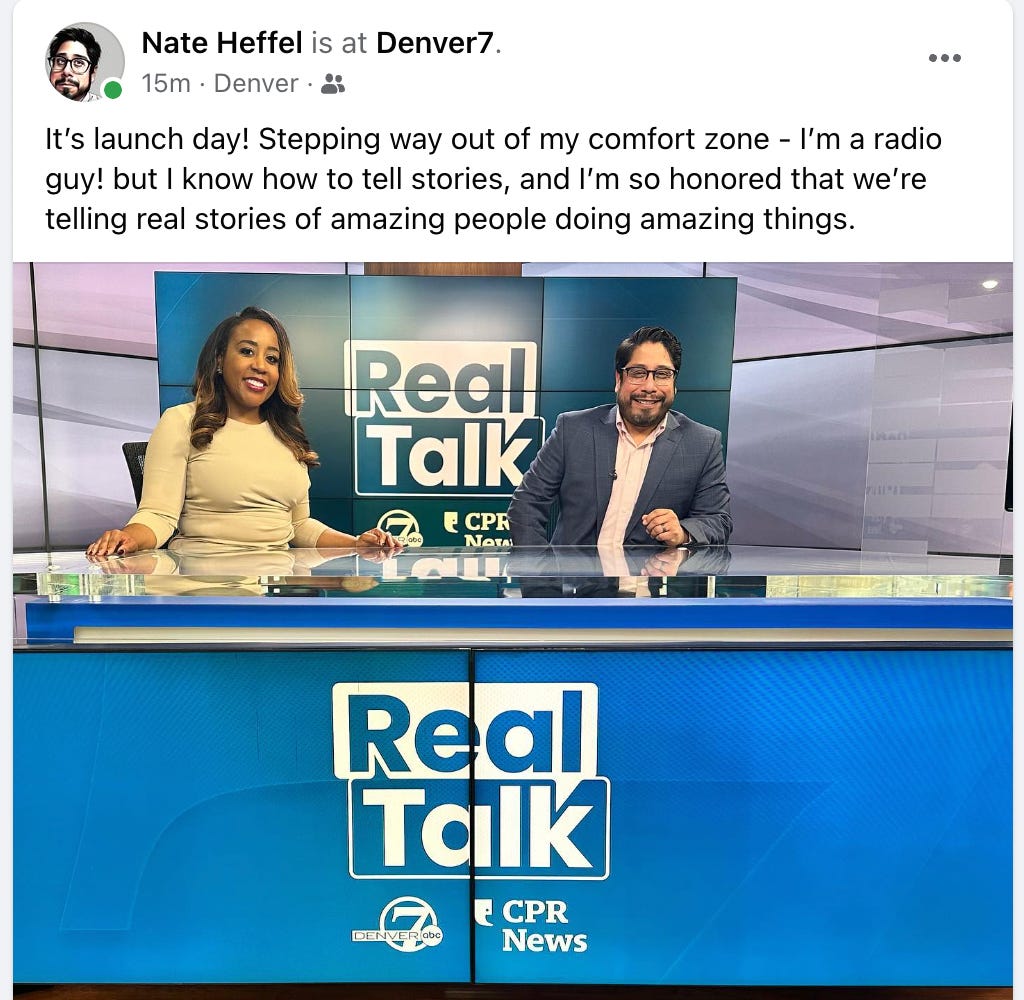 Sixty35 Media 'resurrecting' The Colorado Springs Independent
It feels rare these days for an institution — particularly one in the news business — to reverse course after public backlash following a poor decision, admit it made a mistake, and rectify it.
So I found it refreshing last week when at a public forum about the fate of Sixty35 Media in Colorado Springs, editor Bryan Grossman said this from the stage: "One thing you all have made clear: You want your Indy back. We've listened … as of mid-April we're resurrecting The Colorado Springs Independent."
The gathering last Thursday at the Ivywild food hall was a chance for the alternative weekly in Colorado's second-largest city to explain how exactly it financially imploded earlier this month. It was also an opportunity for its leadership to appeal to the 30-year-old publication's audience for help, and sketch out an optimistic plan for its future.
Background: 'We had to lay off about half of our staff,' says major Colorado Springs media outlet
Last fall, the alternative weekly, then called The Indy, rolled The Colorado Springs Business Journal, Southeast Express, a pair of military papers, and The (Manitou Springs) Pikes Peak Bulletin into one weekly publication. The whole outfit changed its name to Sixty35, a nod to the elevation in the Springs, got a new website, and turned into a nonprofit.
Then, financial disaster struck, which the organization has explained in detail in an FAQ. Now, the outlet is trying to right the ship, and to unwind a lot what those involved have described as an effort to do too much too fast.
The revamped publication outlined a plan for stability that includes memberships (sign up here). From its website:
Here's the situation: With 8,000 members paying $20 a month for membership, we can pay a full staff consistently. That would be more than double our current staff — and that will mean we can do the best possible job of informing and empowering our city.

Our short-term goal, because we've dramatically cut our expenses to survive this crisis period, is 2,500 members. But we need 8,000 of you to become members so that we can rebuild the amazing team you've come to rely on for responsible, reliable, unbiased reporting — and keep the voice of independent journalism alive.

Our advertisers are also critical to our future. Advertising revenue funds the printing of the paper, and will fund our plan to expand circulation — to increase the number of copies printed, and the pickup locations around the city.
"Rebuilding our staff and our coverage will take time, and there'll be hurdles along the way," the paper states. "We are grateful for your patience, and we need your help."
'A lot of fucked-up shit happening,' says author of new Cannabis newsletter
Last month, Colorado journalist Jonathan Rose launched a new statewide newsletter he says will be "hyperfocused" on Colorado's cannabis industry and the state's "burgeoning psychedelics sector."
Called Regulated State, the Substack publication comes out biweekly. Rose says he launched it at a time when Colorado's once meteoric cannabis industry is crashing, and media attention to it has tapered.
"It's a major industry and it's going through some of the hardest times of its young life right now," he said over coffee recently. (Disclosure: my own stock portfolio that includes two cannabis companies and a psychedelic medicine company certainly backs up this assessment.) Rose formerly built the cannabis desk at The Denver Business Journal and comes with a decade of experience building relationships on the beat. While some news outlets will cover parts of the industry here and there, he says, he hopes he can carve out an enterprising niche.
"I think the novelty wore off and I don't think that people look at cannabis as like a core industry of Colorado," he said. "There's a lot of fucked-up shit happening in the industry that needs to be covered and it deserves coverage. So I just saw this big, glaring hole statewide." Social equity in the industry has been a focus of recent editions of Regulated State.
His first edition looked at a new movement involving vending machines and how it "tells a bigger story" about the Colorado cannabis industry. In that issue he profiled a Black husband-and-wife cannabis farmer duo in Moffat, and offered a roundup of legislation and policy from across the state.
Also in that first edition was an introduction:
As I did my due diligence over the past months, gauging the appetite for a newsletter like this, the No. 1 question that came up was "Who is your audience?"

Well I can't say for sure — the response to the first few newsletters should give me an indication. But let me make this clear: I want EVERYBODY.

I think there are stories happening in cannabis every day with mainstream crossover appeal — I proved it at the DBJ, and I hope to do it again here.
Asked what, specifically, kind of "fucked-up shit" readers can expect Regulated State to get into in its future coverage, Rose said the industry at the national level is "falling apart" and is having effects inside Colorado. Large multinational companies are snapping up locally owned chain and independent shops, he says, and wholesale prices are at rock bottom. One recent newsletter notes unpaid bills as "long a hush-hush issue" within the industry.
"I don't intend to be an industry voice," he says about the newsletter. "I don't intend to be an advocate for the industry when it's not right, but I am going to have a point of view."
Colorado media groups are attacking five 'wicked problems'
Three media advocacy organizations in Colorado have partnered to "tackle some of the most pressing challenges facing our industry," they announced last week.
The groups include the Colorado Press Association, Colorado Media Project, and Colorado News Collaborative (COLab). The problems include digital strategies for newsrooms, the future of printing, increasing the public's role in accountability, advertising for ethnic media, and workforce pathways for "inclusive, sustainable newsrooms."
Dedicated working groups will tackle each of those problems listed above. (I'm involved in the one on workforce pathways and am particularly interested in equitable internships if you want to reach out with any insights.)
From the announcement:
As higher education, community-based organizations, and philanthropy increasingly play new roles in new models for local civic news, the working groups also will incorporate elements of collective impact to articulate a common agenda, shared goals and measurements. And we will utilize design thinking processes to understand pain points and systemic gaps, and to develop and test innovative solutions through pilot projects.
Colorado Media Project, which underwrites this newsletter, is putting up $360,000 for the effort. Find out more at the link above.
Republican candidate who lost by 20 points blames 'the media'
The candidate who Republican voters in Colorado selected to challenge Democratic Gov. Jared Polis last year has an idea about why she lost by nearly 20 points.
Reporter Heidi Beedle of The Colorado Times Recorder attended a recent event for the former candidate, Heidi Ganahl, who debuted a new podcast called "Unleashed."
From Beedle's write-up:
It wasn't just spending, according to [Ganahl], but the Democrat's control of Colorado's media that sabotaged her election. "You need to understand how it works," she said. "9 News, The Denver Post, The Colorado Sun, Axios, Colorado Public Radio, The Pueblo Chieftain, The Durango Herald, the Grand Junction Sentinel — all under the thumb of Jared Polis. Did you see much critical about Jared Polis in any of those publications? No. … The media was complicit." Ganahl also singled out the Colorado Times Recorder's reporter who was present at the event.
Following the November 2022 elections, Colorado has become a solidly blue state. Republicans here have formed their own media apparatus to tell their own stories. Ganahl's new podcast venture seems a part of that.
The move reflects a national development of Republican candidates shunning the traditional press corps in favor of more friendly sources.
"I've started to see more Republican candidates avoiding the press, blocking the press from events and taking advantage of the fact that there's conservative media that will ask different questions and has a different audience," Dave Weigel of The Washington Post told NPR last fall. "And so I'm obviously not saying to the world, 'Stop talking to the media.' I'm saying just objectively, there is a media infrastructure built up so that you don't need, if you're a Republican candidate, to talk to us."
Goodland elected Press Club president
Veteran reporter Marianne Goodland, who works for Colorado Politics, has become what she says is the second-ever working female journalist to lead the Denver Press Club as its president, and the fourth woman to hold the role in its 150-plus years.
"I'm very honored to step into this role and will work diligently to move the club forward on some important initiatives, such as making it accessible to all [and] beginning the preparations to celebrate the 100th anniversary of the Press Club's historic building, which will happen in 2025," she said via email. "I'm also committed to bringing in more journalists of color and young journalists to keep the club both as a vibrant symbol of the past as well as its future."
More Colorado media odds & ends
🍽 In the fallout from the implosion of the Colorado Springs alt-weekly, the paper's laid-off food and drink writer, Matthew Schniper, is going the Substack route with Side Dish with Schniper. "I'll be seeking sponsors and underwriters who don't present a conflict of interest," he wrote.
👀 Ogden Newspapers, the West Virginia chain that bought a string of Colorado mountain town papers, justsold its Park City, Utah paper to a local tech billionaire and his wife. "We only considered selling to a family that had deep roots and a commitment to Park City," said Ogden's Cameron Nutting about the move. Does that mean a newspaper in Colorado could be next with the right fit? (The Ogden-owned Aspen Times certainly has a history with one billionaire there. Kidding!)
6️⃣ Axios Denver's Esteban L. Hernandez spotlighted Piper Ensley, an "African American suffragist and journalist" who was "instrumental in helping organize for women's voting rights in Colorado" when writing about six Colorado women who "shaped the state's history."
😬 The Teller County Sheriff's Office had to post on social media that the current edition of The Mountain Jackpot newspaper is an April Fools edition with a satirical front-page headline about local gun seizures. "It really doesn't say it's April Fools, it just says The Mountain Crackpot, but if people don't pay attention to that headline they don't know," sheriff's spokesperson Renee Bunting said over the phone Thursday. "We wanted to prepare people that this was just a joke," she said about trying to get ahead of it. (Last year the joke was the sheriff was running for governor, which led to hundreds of calls, she said. Not many calls this time.)
🆕 Taylor Cramer is the new education and sports reporter for the Post Independent and Citizen Telegram. "Being fresh out of college, I'm excited for the opportunity to get my foot in the door at a well-established publication like the Post Independent," he said.
🍻 Quote of the week: "Bars are where democracy happens." — Skyler McKinley, owner of the Oak Creek Tavern and treasurer of the Denver Press Club. "What we do at the Club is give people a place to gather, talk, celebrate, and debate," he said in a recent member profile. "I've formed a lot of deep friendships with folks from all walks of life that started with a drink or two — or too many — at our bar. It's a beautiful community, and I'm grateful to be a small part of it."
💨 Reporter Annie Mehl has left The Boulder Daily Camera. "My reasons for leaving the Camera are not unique, but taking a break from journalism was one of the hardest decisions I've ever made," she said, adding, "I'll be serving as a public and media relations associate for the Morris Animal Foundation."
🚔 "Two years after the January 6 attack on the US Capitol, a man seen posing in a photo with Colorado tech CEO Chad Burmeister has been arrested," 9NEWS anchor Kyle Clark reported, adding a photo Burmeister posted was included as evidence. In January 2021, Burmeister "told 9NEWS that we couldn't show the photo. He subsequently sued for defamation," Clark went on. "A judge dismissed the lawsuit last year." (He is appealing.)
🌞 Last week, in giving kudos to the Anschutz-owned Colorado Politics, I wrote that I hadn't seen any other coverage about how a tax lawsuit against the state by Colorado newspaper owner Phil Anschutz was impacting state revenue collection forecasts. A Colorado Sun staffer pointed out The Sun had reported on it in one of its newsletters in December.
⚙️ Denver Urban Spectrum Publisher Bee Harris told Denverite's Kevin Beaty that "she's not sure if and when her publication will replace" editor Alfonzo Porter who died unexpectedly at 60. "Urban Spectrum's operations are going through a transition, and, for now, they're waiting to see how things pan out," he reported.
🔥 Friends will gather to roast CBS News Colorado anchor Jim Benemann at Comedy Works in Denver on April 5, as the longtime Denver newsman retires today.
🚓 The accountability podcast Alphabet Boys from journalist Trevor Aaronson about how the FBI "infiltrated and undermined the racial justice movement during the summer of 2020," and focuses on Colorado, continues to make waves. The most recent episode is about Colorado Springs. Reporter Tiney Ricciardi of The Denver Post called the podcast a "fascinating listen that not only illuminates the inner workings of the country's most powerful law enforcement agency, but also shows how its impact was felt in our local community."
📼 A Teller County judge has "ordered the Woodland Park School District to disclose video surveillance footage showing three school board members talking with a candidate for superintendent after a public meeting last December," the Colorado Freedom of Information Coalition reported.
📢 As the labor union for more than 1,400 media workers at The New York Times raises awareness that they haven't gotten raises in two years, "Denver Post journalists haven't had raises in seven," noted reporter Noelle Phillips.
I'm Corey Hutchins, co-director of Colorado College's Journalism Institute. For nearly a decade I've reported on the U.S. local media scene for Columbia Journalism Review, and I've been a journalist for longer at multiple news organizations. Colorado Media Project is underwriting this newsletter, and my "Inside the News" column appears at COLab, both of which I sometimes write about here. Follow me on Twitter, reply or subscribe to this weekly newsletter here, or e-mail me at CoreyHutchins [at] gmail [dot] com.