Earlier this year, the local government in the Southern Colorado city of Florence collapsed. "Entire City Council resigns in protest of Colorado corruption scandal," read one March headline from KRDO-TV in Colorado Springs.
That storyline was just one in a series of scandals that stretched into the summer for this Fremont County city of roughly 4,000 on the banks of the Arkansas River between Pueblo and Westcliffe.
The Florence Citizen newspaper, which had served the city in some capacity for 125 years, wasn't particularly equipped to comprehensively cover the newsworthy happenings of its local government. The Citizen cut its print run late last year and went all digital. Then it blinked out. Its most recent online story is from July; an October news story in a nearby paper reported the owners had "left the area."
As for the local print media landscape, there is another nearby newspaper, The Daily Record, based in the larger municipality of Cañon City about 15 minutes from Florence. But it's one of the dozen or so newspapers under the Alden Global Capital hedge fund constellation that has shrunk over the years. A print paper called The Fremont County Crusader circulates in the area with a promise of reporting guided in part by the Ten Commandments and not being constrained by "political correctness."
Following the turbulence in local government — and a feeling among some that there was a dearth of hyperlocal coverage compounded by outside media dropping in only to report negative news — a band of nearly 30 locals gathered this fall under a pavilion at a public park. There, they discussed the possibility of creating a new media entity in town.
They talked about wanting more scrutiny on the city's new slate of leaders and its mayor, and also to showcase positive aspects of life in Florence, says Kevin Mahmalji, a local political organizer who came to Colorado in 2009 to work for Democratic U.S. Sen. Michael Bennet.
Mahmalji, 40, led the charge of creating the new paper, and says he was perhaps the youngest in the crowd that day. What emerged from the meeting, about three months ago, is The Florence Reporter, a free monthly print newspaper with a circulation of 500 that is registered as an LLC and carries liability insurance.
"We are as bonafide as they come," Mahmalji said in a phone conversation Thursday as he awaited delivery of the newspaper's second edition.
Mahmalji is the paper's managing editor and he personally paid for its startup costs. He also handles the advertising and delivers papers around town. His background in politics, lobbying, and communications is something he jokingly acknowledges is "certainly nothing that would suggest I should be running a newspaper."
While running the new local paper, Mahmalji also manages a co-working space in Cañon City and has multiple communications clients ranging from a real estate company to a mental health initiative. (He said he would consider disclosing his outside employment in future editions of the paper.)
"I'm very passionate about what I did, there's a very personal connection to why I got involved in politics, but I moved to an unaffiliated voter in 2014," he says about his non-journalist background and working on progressive issues. "People in this community know me as being fiercely independent."
Mahmalji's partner, Johanna Nabors, is a current city council member, and because of that, Mahmalji says he won't cover city council. Area writer Laura Van Dusen handles that coverage, he said.
The new newspaper in Florence, which counts more than 600 followers on its Facebook page, aims to produce a mix of local government coverage and community news while lifting up the local youth. Fremont County has already started paying to publish notices in the paper, Mahmalji says, and the Reporter hopes to begin printing obituaries. Local community members have stepped up to contribute content.
"The future of media is up to us," Mahmalji says. "We don't have to answer to anybody except the community."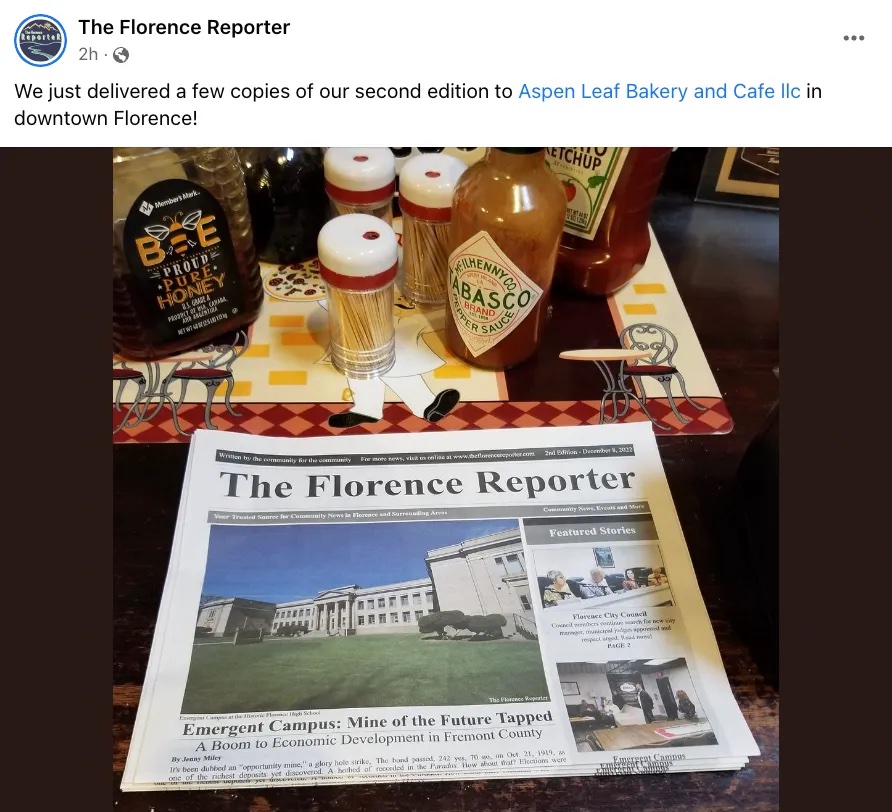 Rural Journalism Institute of the San Luis Valley gets nonprofit status, plans 2024 summit
Last fall, this newsletter reported on the emergence of the Alamosa Citizen, a new for-profit news outlet in the San Luis Valley.
The item carried this line:
While the Citizen is for-profit, the outlet has a partnership with a nonprofit called The Rural Journalism Institute of the San Luis Valley, which "trains early-career and aspiring journalists to work and perform their craft in rural communities with populations under 20,000."
This week, the Internal Revenue Service granted the organization tax status as a 501(c)(3), and the institute's board of directors will consider bringing the Citizen under its umbrella as a nonprofit newsroom.
With that designation, the institute is planning a week-or-so-long rural journalism summit to take place in the valley in the summer of 2024 for early-or-mid-career journalists interested in covering rural issues, says MaryAnne Talbott, a founder and editor ofthe Alamosa Citizen.
"What we've found is there are a lot of smart people here who are interested in becoming storytellers and journalists and doing stuff in media but there's not a lot of training," she says. "Since there are fewer and fewer local news outlets to get that kind of training we kind of want to step in and help people get the tools to tell their own stories in a way that resonates with them and their audience."
From now until then, the board will raise money and organize programming and speakers for the summit and seek out collaborators. (The board includes Talbott, Chris Lopez, Kathleen Walker, who is news director of iHeartMedia in Denver, and Katie Roberts, who serves as the corporate communications and brand development coordinator at The Kent Companies.)
Since its launch last year, Talbott says the Citizen has become a player in the local media scene as evidenced by other outlets following up on its reporting and community members responding positively to its work.
Multiple Springs weekly newspapers re-brand under new name Sixty35Media
In September, The Indy alternative-weekly newspaper in Colorado Springs announced it was converting to a nonprofit business model.
At the time, Publisher Amy Gillentine told this newsletter the move was the first of "several changes" the paper would undergo, and to stay tuned for details by the start of the new year.
Some of those details are already starting to trickle out.
"We've united some of Colorado Springs' most respected and beloved publications under one banner," reads a new website asking people to sign up for emails from an organization called Sixty35Media that promises "All the news. All the events. All in one place."
The cluster of local newspapers included under the Sixty35Media banner are The Indy, The Colorado Springs Business Journal, Southeast Express, Pikes Peak Bulletin, and Colorado Springs Military Newspaper Group. They formerly fell under the auspices of the for-profit Colorado Publishing House.
"We looked at our operations and realized that our audience, when combined, is very large for print media," Gillentine said this week.
More from the publisher:
"As we were looking at ways to put out news efficiently and more effectively, we decided to take the best of what we do and combine it into one publication: Sixty35, a take on the elevation of Colorado Springs. We'll have something for all our readers in the new publication. Each part of the newspaper will have it's own section cover – so if you are a business reader, you can flip to the business section. If you want arts and entertainment, that's easy to find as well. It matched with our new website, to launch in January, that is customized to the user."
In other words: consolidation. She added that the nonprofit would be mailing the revamped news product to zip codes around the city with the goal of reaching 120,000 different households each month.
More:
"We'll send it [via] select carrier routes each week, and are flexible enough that if we have stories or information that greatly impact one area of the city, we can change our distribution. For people who want the paper every week, or want specifically, the extras from the Business Journal (like the Book of Lists, information about events, COS CEO magazine and more), we will still have a subscriber base. We will also have membership levels that create community engagement with our reporting staff, member only events and reader options."
"We have changed a lot about how we deliver news and how we work within the community, but our commitment to our values haven't changed," she said. "Our mission stands: We deliver truth, build community and engage citizens."
Nonprofit Pueblo Star Journal newspaper reboots
In the latest monthly edition of The Pueblo Star Journal, a nonprofit print newspaper that launched in March, readers learned in a column that without an "influx of financial support" the paper would have to take a "hard look" at its bottom line and make some "tough decisions."
From the item:
Do we put this project on ice for a while? Keep going in a way that is financially and physically unsustainable, hoping for the financial tide to turn? Say it was fun while it lasted and move on?
The paper said it was flush with enough advertising, but because it's a nonprofit it can only take so much and must rely on a separate stream of donations to survive. "Whether it's $5 or $5 million, any donation you can afford is a miracle to this team and propels the PSJ into 2023," the column read.
That was in the October edition. Not long before, one of the paper's founders, Regan Foster, who was teaching at CSU Pueblo, left for a job in Michigan. The paper skipped a November edition.
But since its call for support, and after hearing feedback from the community, the paper's managers decided they will continue printing. "We are looking at 12 issues next year," Gregory Howell, who helped found the paper and is on its board of directors, said over the phone this week. "We're going to keep it at monthly."
He said the paper is working with local higher-education institutions, has plans to introduce a podcast, and is exploring a 30-minute network TV broadcast to supplement its output. He added that the Star Journal is also partnering with Pueblo's main library and will participate with folks at CSU Pueblo this Saturday with a storytelling workshop.
"I'm really excited that we're going to have actual citizen journalism," Howell said, adding, "we want to give them the skillsets and the training and what have you, because you never know where that next great writer is going to be or where that next great journalist is going to come from."
As the paper navigates its future, "I've kind of been using the word reboot," Howell said.
Pueblo is a city that needs more local journalism. In 2020, the feisty independent PULP news magazine shuttered. The Gannett-owned Chieftain newspaper has shed staff in recent years, turnover has been high, and because of its diminished resources is likely not to be up to the task of effectively covering a city of Pueblo's size under the paper's current cost-cutting ownership.
Colorado journalists want exemptions from state privacy law
Policymakers in Colorado are currently working on rules to implement a sweeping new law called the Colorado Privacy Act.
The new law, passed by lawmakers with broad support and signed by Democratic Gov. Jared Polis last year, "gives residents the right to tell companies to stop collecting their data — and delete any personal data collected," The Colorado Sun reported in 2021.
Now, as the office of the state's Democratic attorney general, Phil Weiser, released draft rules about the law, some of Colorado's newsroom leaders are weighing in with concerns about how they fear it might affect their news-gathering process and journalistic business.
Jeff Roberts of the Colorado Freedom of Information Coalition rounded up some of those concerns this week in a piece that reported what some news managers have told Weiser's office. From the CFOIC:
Enacted by the legislature and signed into law last year, the Colorado Privacy Act is designed to give consumers more control over how businesses use their personal information. Once the rules go into effect next year, consumers will have the right to opt out of the sale and processing of their personal data for purposes such as targeted advertising. The law gives consumers the right to access, correct and delete personal data.

But unlike similar laws enacted in California and Virginia, the Colorado law does not contain specific exceptions for journalism and nonprofit activities. A free-speech exception in the law "is too narrow to provide certainty that news organizations will be protected," wrote Stewart Vanderwilt, president and CEO of Colorado Public Radio, in comments.

"CPR fully understands and supports the intent of privacy laws to provide consumers with more control over their personal information," Vanderwilt stated. "… However, privacy legislation that does not contain a journalism exception has the consequence of potentially restricting newsgathering activities, such as interviewing sources, taking notes and publishing information about identifiable individuals. Amending the (privacy act) to exempt journalism may also be necessary to avoid conflicting with the First Amendment."
On Nov. 17, the AG's office held a three-hour virtual "stakeholder meeting" about the rule-making process and took public comments.
Colorado Public Radio's Vanderwilt said on the call that CPR journalists collect information about people for stories, particularly for investigative reports. Sometimes that information might wind up in a newsroom database or never leave an individual reporter's electronic device.
"We do not gather or maintain this information in order to commercially traffic consumers' personal data," he said. "We do this in order to serve the public."
Vanderwilt said he worried subjects of stories could use the new privacy law to "thwart" the station's reporting.
Dean Littleton, the general manager and vice president of KMGH-TV in Denver, said he worried the law would "allow the subject of a news story to demand Denver7 pull it from our website, not because any facts are wrong, but merely because the news gathering process doesn't comply with the CPA." Further," he worried, "the subject of a news story could demand that a reporter reveal his or her source, thus emasculating the protections of the Colorado Shield Law."
Roberts at the CFOIC reported that KUNC and Aspen Public Radio also submitted comments to the attorney general's office, and that Tim Regan-Porter, CEO of the Colorado Press Association, testified during a Nov. 10 rule-making hearing.
"The comment period for the AG's rulemaking process runs through Feb. 1, 2023, when another hearing is scheduled," CFOIC reported.
More Colorado media odds & ends
🤦‍♂️ I heard from some readers that last week's newsletter landed in their spam or "promotions" folders. If you don't remember getting last week's edition, search your inbox for "Denver Post journalists vs. their owners" or click here to read the published version online. (You can always read any past edition of this newsletter at its online archive on Substack here, so bookmark that site.)
❌ Speaking of last week, some embarrassing CORRECTIONS: I mistakenly reported The Denver Post's outdoor writer John Meyer's first name as Steven. I wrote the deadline for a COLab survey is Dec. 19. It was Dec. 9. And Alden Global Capital is now based in West Palm Beach, Florida, according to its website.
➡️ Between now through the end of December, these33 Colorado newsrooms will receive up to $5,000 from Colorado Media Project, which underwrites this newsletter, in a dollar-for-dollar match during this year's #NewsCOneeds campaign.
💨 Veteran KUSA 9news anchor Gary Shapiro is retiring today after four decades on TV. "It's just time," he said. "Even though it was never easy getting up in the middle of the night, I've loved being on the morning show with such a great crew, and with so many wonderful viewers … But now it's time to sleep in, spend time with my wife, do some traveling that we haven't seemed to get to, ski during the week, and not worry about deadlines every day."
🤺 A Durango Herald editorial about The Denver Newspaper Guild's contract negotiation fight by Denver Post workers read: "This hits close to home as some of us at The Durango Heraldand The Journal are former members of this guild, survivors of newsrooms that have been gutted or closed."
📺 CBS Colorado this week announced Michael Spencer will succeed Jim Benemann when he retires in the spring.
⏸ The Cañon City Tribune digital news outlet is on "pause" as publisher Jordan Hedberg deals with a lawsuit he filed on behalf of his Westcliffe-based print Wet Mountain Tribune newspaper against Custer County commissioners in a neighboring county.
🎥 "Julian Rubinstein's award-winning documentary "The Holly," which was named outstanding documentary feature at the 45th annual Denver Film Festival last month, has secured a North American distribution deal that will make it available in homes starting Feb. 3," John Moore wrote in The Denver Gazette.
💸 "I don't think she got the press she should have," said a Colorado oil-and-gas man who spent at least $3.3 million trying to help Heidi Ganahl, the Republican candidate for governor, beat Democratic Gov. Jared Polis. (She lost by 19%.) "Ganahl and her campaign often clashed with reporters," reported The Colorado Sun's Jesse Paul.
🔙 "We've been so excited about our new nonprofit that we said we're the only nonprofit media in Southern CO," the Springs Indy posted in a statement this week. "We're not & we'd like to apologize to all of the other great non-profit news sources we are honored to be joining."
🗣 The U.S. Supreme Court 's conservative majority "sounded sympathetic Monday to a Christian graphic artist who objects to designing wedding websites for gay couples, the latest collision of religion and gay rights to land at the high court," The Associated Press reported. The designer says Colorado's law "violates her First Amendment rights. The state disagrees."
🚴🏼‍♂️ Dan Cavallari, a writer, editor, and photographer from Arvada, Colorado, has launched a GoFundMe, to "reshape cycling media," saying, "In every difficult moment, there is opportunity. We as a community of readers and cyclists are faced with both that difficult moment and that rare opportunity to seize power that we ceded years ago. We have stood by and watched as media slowly folded and died, and we rarely questioned what our role in that demise might be. Yet our role was pivotal to the change: We ceded control."
I'm Corey Hutchins, co-director of Colorado College's Journalism Institute. For nearly a decade I've reported on the U.S. local media scene for Columbia Journalism Review, and I've been a journalist for longer at multiple news organizations. The Colorado Media Project, where I write case studies, is underwriting this newsletter, and my "Inside the News" column appears at COLab, both of which I sometimes write about here. Follow me on Twitter, reply or subscribe to this weekly newsletter here, or e-mail me at CoreyHutchins [at] gmail [dot] com.