This week, Colorado lawmakers stopped making laws. Until next year, anyway.
For one reporter who has covered state legislatures for nearly 20 years in four states, the end-of-session drama this week earned a mind-blown emoji.
You can Google "Colorado legislative session" under the News tab to read, watch, and listen to all the great reporting out there about what our lawmakers did and did not do.
It was a "chaotic final push" (Denver Post), "defined by dissension" (Colorado Politics) and "party infighting" (Colorado Public Radio), that came with "defining moments" (Colorado Sun) including a Republican "walkout" (CBS Colorado). All in all, it reinforced a "once-purple state's Democratic shift" (AP), but also one in which the "enemies of progressive policy turned out to be Colorado Democrats" (Colorado Newsline).
Because this newsletter deals with local media in Colorado, that's where this dispatch will focus.
"While there were a couple of disappointments, there were a number of wins," wrote Colorado Press Association President and CEO Tim Regan-Porter in an email this week to members.
In the same email, he linked to an end-of-session report by Jennifer Mello, the press advocacy group's contract lobbyist at the state Capitol. Here are a couple takeaways from it (but read the whole thing yourself):
One bill lawmakers introduced about pollution protection measures eliminated the requirement for the Colorado Department of Public Health & Environment to put public notices in newspapers. "That language was removed when the bill was in the House," Mello wrote.
Lawmakers passed a bill that restricts the use of disclosure agreements and clarified that a public employer's NDA "may not prohibit the release of information required to be released" under the Colorado Open Records Act.
Here's what Regan-Porter of the Press Association had to say himself about another bill that involved our state's open records law, which journalists and others rely on to obtain information to illuminate for the many what is known by a few:
SB23-286 is a CORA-reform bill that CPA and others have been working on for years. The final bill eliminates a per-page charge for pdfs, requires credit card and electronic payments in most instances, forbids requiring ID to request most documents, requires electronic delivery of digital documents and ensures that existing law meant to protect victims of sexual harassment does not protect perpetrators.

Addressing escalating costs was our first priority, but we were unable to secure enough support. We will continue to work on this. While this bill does eliminate some needless obstacles for CORA requestors, we wanted more from this bill. The politics of this are treacherous. One of the bill's own sponsors called it "a shell of a shell of a shell" because so many compromises had to be made. Even as narrow as the bill was, it almost died many times, including a couple of times over the weekend.
About that particular piece of legislation, "the many brushes with death on this bill definitely illustrated the value of having a good lobbyist," the Press Association CEO said.
Some more of what lawmakers did (and didn't do) for transparency
Despite the Colorado legislature being a "pretty polarized place," if there's one area where you can count on lawmakers of either party to agree, it's "aversion to transparency."
So wrote Colorado Newsline Editor Quentin Young in a recent column in which he rounded up the fate of legislation and lamented "a dismaying streak of anti–transparency at the Colorado Capitol."
Now that the legislative session is over, Jeff Roberts at the Colorado Freedom of information Coalition has surveyed new laws that deal with transparency in government.
Here were some of the highlights and lowlights:
No more "papers please" when it comes to asking for public records. "Senate Bill 23-286, which passed on the General Assembly's final day Monday, prohibits state agencies and local governments from requiring requesters to show identification to get CORA records," Roberts writes. Records custodians also now have to take credit cards as payment.
Block away. Lawmakers in Colorado "voted to let themselves and other state-and-local elected officials block anyone on their private social media accounts for 'any reason.'" (Jesse Bedayn of The Associated Press reported on this last week.)
No cost relief for news organizations that fie open records requests. "Although CFOIC and the Colorado Press Association tried to interest lawmakers in CORA cost relief, there was considerable opposition from government lobbyists to changing the law's current fee structure." (A CORA reform bill did pass, though, so read Jeff's piece to see all of what's in it.)
More sunlight in court: "Courts livestreaming. House Bill 23-1182, which passed the legislature May 2, requires the livestreaming of criminal court proceedings on Webex or another videoconferencing platform. Unlike a chief justice directive that goes into effect May 15, the bill presumes that criminal trials and evidentiary hearings held in open court will be livestreamed."
Read the whole roundup at the link above.
Sentinel Colorado folks talk 'Green Bay Packers' model for community-owned local news
As a wave of newspapers in Colorado convert to the nonprofit business model, one of them has gained national attention for taking its inspiration from a professional football team.
Sentinel Colorado, the weekly newspaper in Colorado's third-largest city of Aurora, has pioneered a so-called "Green Bay Packers model" for local news.
This week, Colorado Press Association CEO Tim Regan-Porter had two people who are leading the transition on his "Local News Matters" podcast.
On the podcast, Sentinel Editor Dave Perry, who has been at the paper for three decades, joined Joaquin Alvarado, who runs a consultancy called Studiotobe and has worked on projects aimed at keeping local news ownership close to the communities they serve. (Alvarado is based in Oakland, California, but was drawn to Colorado, he said, in part because of "the great ecosystem of journalism and innovation that's happening" here.
One thing that came up about community ownership of a newspaper is the importance of the audience as a financial contributor. Philanthropy, which has in recent decades filled a revenue gap for nonprofit newsrooms, isn't enough, Alvarado said.
Here's an excerpt:
We can't recapture what we've lost and we can't make all the investments that we need to make through philanthropy. It's not going to save jobs in most communities. So that's why we also needed to develop a mechanism here in addition to philanthropy to ask the community to be a part of that transformation.
But memberships, like nonprofit newspapers such as The Indy in Colorado Springs are doing, also isn't enough.
"One thing that we're finding a huge success here is in collaborating with people," Perry said on the podcast. "And so we're working with other newspaper companies here in the metro area to share advertising revenues and create joint projects that look really promising."
Because Aurora is such a diverse community, "there's ethnic media here that serves their own constituencies and communities that are really struggling too," Perry added. "And so we're bringing them on board with a shared revenue idea [so] that we can sell advertising into each other's newspapers and work with each other and not against each other."
Listen to the 40-minute discussion at the link above.
Speaking of nonprofit newspapers…
The Pikes Peak Bulletin, a weekly newspaper in Manitou Springs that folded as part of the Sixty35 Media experiment by Colorado Publishing House, is back.
A local group formed to revive it as a nonprofit, and the first print edition hit the streets today, May 12. "We are designing a robust process for gathering a wide swath of public ideas," wrote publisher Lyn Ettinger-Harwell in a column. "We want to hear from our traditional readers, yes, and we need to hear from those who may not be traditional newspaper readers. To the larger community, we wish to communicate we are building something with you."
Interspersed with ads, the edition, printed at The Pueblo Chieftain, features a "look back through Manitou Springs history," a story about a lawsuit alleging local police brutality, a piece about the paper's revival, city council coverage, a police blotter written in cop-speak, a column by former Indy columnist John Hazelhurst pledging to keep an eye on "Westside issues," and more.
The group behind the paper will hold a launch party next week to hear from the community about the new paper.
Colorado journalism pay scale snapshot
Ever since Colorado passed a law in 2021 called the Equal Pay for Equal Work Act, which requires job postings to list a pay range, this newsletter has occasionally reported on how the journalism sector is willing to compensate labor across the state.
The last time was about six months ago. Here are some available jobs in Colorado posted at JournalismJobs[dot]com and at their own sites, along with their commensurate pay scales.
Ballantine Communications, which owns The Durango Herald, is looking for a deputy editor it will pay $55,000 to $60,000 a year. Meanwhile, an assistant editor at the Swift-branded Ogden paper, The Steamboat Pilot, will net someone $45,000 to $52,000.
KRDO in the Springs will pay a general manager $160,000 to $210,000.
A weekend evening anchor job at 9NEWS in Denver will earn someone $85,000 to $115,000. Denver7 states it will pay an investigative reporter "Hourly: $85,000.00 – $100,000." (Big if true.)
KSUT public radio in the Four Corners region is offering $50,000 for a news director. KGNU in Boulder will pay a community development director $60,000 to $65,000.
A job posting for a staff photographer at the family owned Grand Junction Daily Sentinel does not list a required salary range at the JournalismJobs site.
"If we're talking about a journalist in Colorado who could be employed by a Colorado publication or a national publication, the pay has to be posted for a job in Colorado," Scott Moss, the director of Colorado's Division of Labor Standards & Statistics, told this newsletter in 2021, and said in October that nothing on that front has changed.
And now, if you've gotten this far, here's a gem…
A job listing at a Denver law firm that seeks a storyteller and script writer ($50,000 to $55,000, according to the firm's site) offers this as its opening line in a posting at JournalismJobs[dot]com: "If years of grim reporting, toxic newsroom culture, and demanding deadlines have left you feeling disillusioned and ready to say 'peace out,' then we have an opening that will pique your interest."
Poll: Be honest
A reader wrote me this week with a lament. The longtime reporter "marveled at how many newspaper employees — newsroom in particular — don't have subscriptions to their own publication, yet constantly rail at others to get one or rail at how the public should support them."
I wondered how widespread that might be. Knowing many subscribers to this newsletter are employed by a local newspaper in Colorado, I wonder if you'd feel comfortable answering here.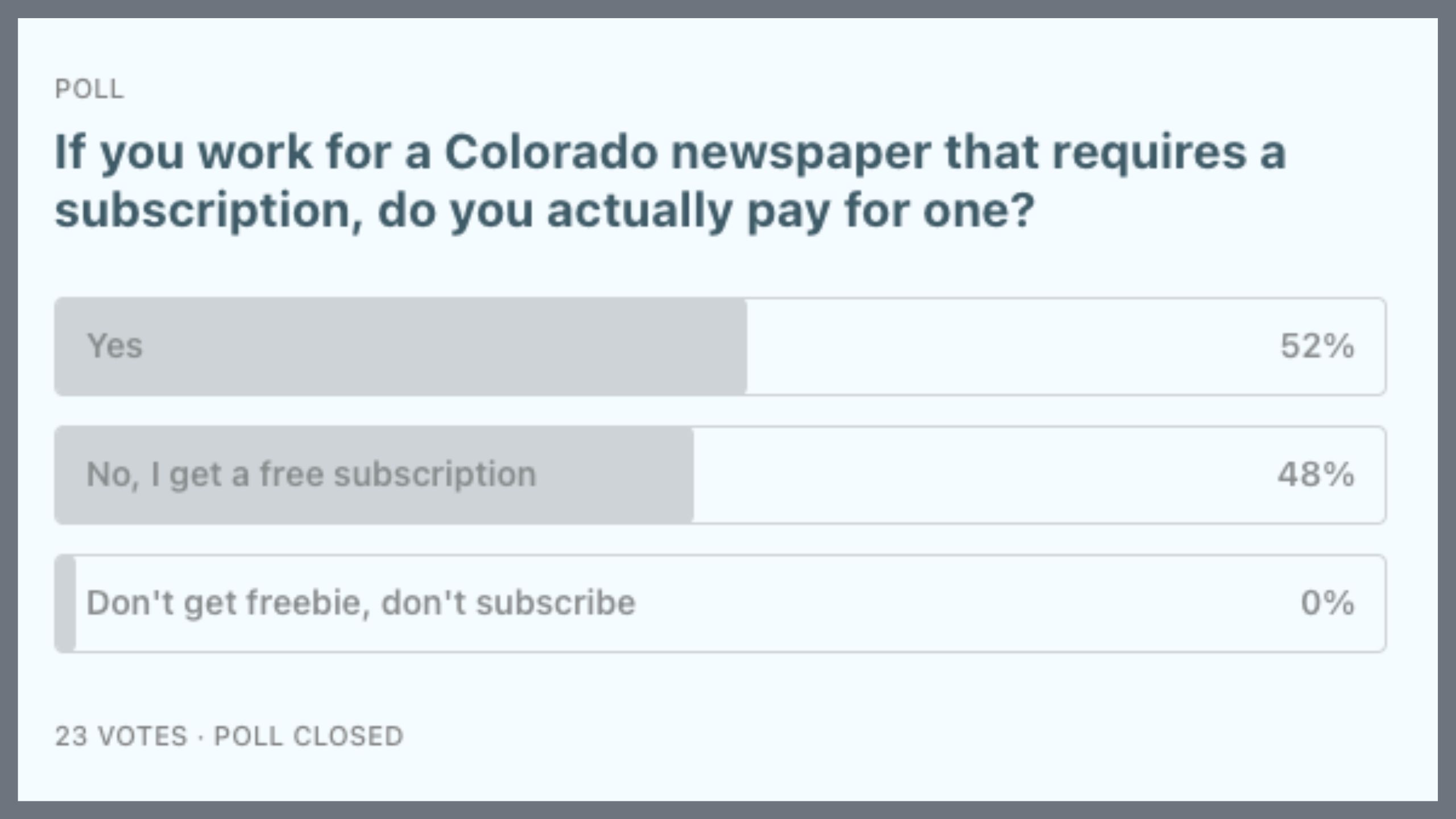 Once it was the newspaper building in Greeley. Now it's a library
Dan England, who wrote for The Greeley Tribune for two decades, is impressed with a new Library and Innovation Center in town known as the LINC.
"Without a doubt," he wrote this week for The NoCo Optimist, it is "the coolest library I've ever seen."
More from England:
It is also where the Greeley Tribune stood for the 20 years I worked there and for a bit longer after we parted ways. Thursday the High Plains Library District gave us a free tour in acknowledgement of our time there. I saw old coworkers and friends, most of them both, and at times felt the past brush my heart.

Most of the time, however, I saw progress. Progress can be hard, even unfortunate, but there are many times when it is welcome. This time it's all three.

There is nothing left, really, of the Tribune, at least as far as I can tell when I walked in, and this is a good thing.
Occasionally, England writes, he could "feel the old Tribune" speaking to him, like when in the new library's woodworking section. There, he could "sense the faint rumbling of the old press." Printing presses are becoming scarce in Colorado. And the Tribune's, he writes, "was a beast," and yet a "comforting place to hide from the occasional chaos of the newsroom and its constant demands before the Tribune sold it."
Construction workers, he went on, "encountered 30 inches of concrete as they were tearing down our building to absorb the ink and vibrations from the beast."
Removing it, he writes, even delayed construction by a few days, and "this, I have to say, made me smile."
Read the whole thing at the link above.
More Colorado media odds & ends
🆕 The Institute for Nonprofit News "is expanding support for editorial collaborations across rural America through its Rural News Network" that includes Colorado newsrooms.
🎥 Rocky Mountain PBS has launched a series "documenting homelessness in Colorado Springs." Here's the first installment, by Alison Berg.
⏸ "It's important to take mental health breaks," The Colorado Rapids tweeted. "As part of Mental Health Awareness Month, we will be stepping away from our social accounts for the week."
😷 "Welp. After 3 years it finally got me. I'm down for the count with COVID," said 9NEWS journalist Steve Staeger this week.
🥇 Eli Saslow won the Pulitzer Prize "for feature writing for a series of stories for The Washington Post on the civic unraveling that occurred in the aftermath of the pandemic," the paper reported. One of them was for "Anger and heartbreak on Bus No. 15" about a bus line in Denver.
🚐 Denver public relations professional Eric A. Anderson wrote on LinkedIn about the above story, opining, "Unfortunately, some of our local transportation reporters are relentless boosters of RTD and, although they acknowledge the system's problems, their unapologetically 'solutions-oriented' coverage demonstrates a desperation for transit to work. And, yes, there's some anti-car bias driving their coverage too."
⚰️ Rick Sadowski, who wrote "for the Rocky Mountain News as a journalist covering the NHL, Colorado Avalanche, and University of Denver hockey team," died peacefully at 71.
🏆 Aspen Public Radio won three regional Edward R. Murrow Awards.
📼 Woodland Park, Colorado, which "became the first — and, so far, only — district in the country to adopt the American Birthright social studies standard, created by a right-wing advocacy group that warns of the 'steady whittling away of American liberty,' was the subject of an NBC story by L.A.-based investigative reporter Tyler Kingkade who obtained a school district surveillance video that is the subject of a state open records lawsuit.
"After having done this journalism thing for more years than even than the average age of most of my peers, I've realized it's like pulling weeds," wrote Sentinel Colorado Editor Dave Perry.
🗞 "We are fortunate to have The Daily Sentinel, certainly struggling, still the best local news source," wrote retired lawyer Gene Goffin who this week offered a history lesson about the American press in a column for the newspaper in Grand Junction.
⛰ Last week this newsletter profiled the launch of The Yampa Valley Bugle as the latest one-person digital site founded by a former newspaper reporter. This week Dylan Anderson wrote about how its first days have gone. (Anderson told me he has so-far been rebuffed when he offered to share his reporting with other outlets in the area.)
👀 Kevin Stitt, the Republican governor of our neighbor Oklahoma, had something "exclusive" to say to the Fox TV channel's digital site this week about the state's PBS station: "You know, the big, big question is why are we spending taxpayer dollars to prop up or compete with the private sector and run television stations? And then when you go through all of the programing that's happening and the indoctrination and over-sexualization of our children, it's just really problematic, and it doesn't line up with Oklahoma values."
🦴 The "vulture fund that picked American newspapers apart" — including The Denver Post — "has a new target," Julie Reynolds reported for Columbia Journalism Review.
🔗 Colorado newsrooms are still working together, collaborating on projects. This week, journalists from The Colorado Sun, Chalkbeat, and KFF Health News joined forces for an in-depth piece about how Colorado is "racing to save the schools that serve children whose home districts can't or won't meet their intense needs."
I'm Corey Hutchins, co-director of Colorado College's Journalism Institute. For nearly a decade I've reported on the U.S. local media scene for Columbia Journalism Review, and I've been a journalist for longer at multiple news organizations. Colorado Media Project is underwriting this newsletter, and my "Inside the News" column appears at COLab, both of which I sometimes write about here. Follow me on Twitter, reply or subscribe to this weekly newsletter here, or e-mail me at CoreyHutchins [at] gmail [dot] com.