A good old-fashioned slime-slinging 19th-century-style newspaper war is brewing in a small rural Colorado valley in the shadow of the Sangre de Cristo Range.
That might come as a surprise to anyone who saw a recent interactive map published by the Medill School of Journalism at Northwestern University. The map seeks to count just how many newspapers are left in each of the roughly 3,000 counties in the United States.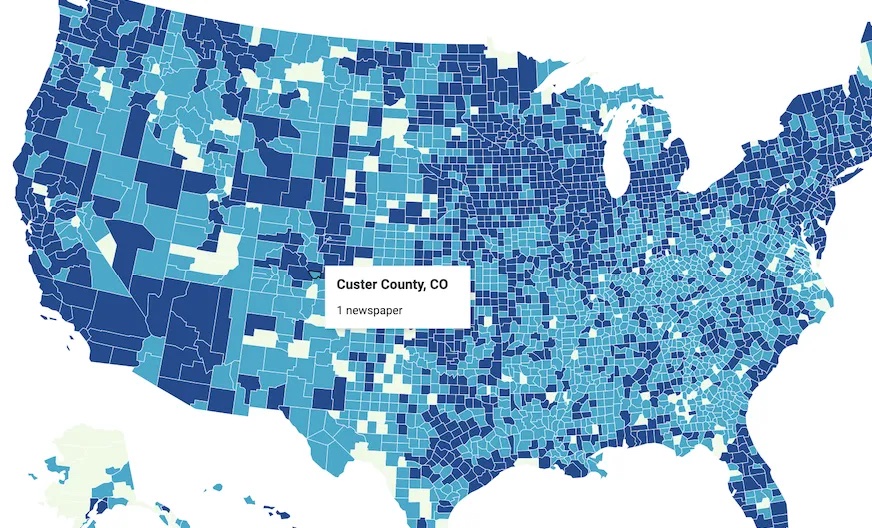 On that map, only one newspaper shows up as serving Custer County in Colorado. Some of the roughly 5,000 people who live in the southern Colorado municipality west of Pueblo might beg to differ. Especially these days as a battle between two weekly newspapers there has become front-page news (at least for one of them.)
One of the papers, the Wet Mountain Tribune, has been around since 1883. Its rival, the Sangre de Cristo Sentinel, launched around 2013 as a self-described partisan publication that calls itself "the voice of conservative Colorado." Their respective offices are just down the main road from each other in Westcliffe.
So what does a new national newspaper map have to do with this local southern Colorado broadsheet battle? It's a question of how Northwestern's researchers chose to define a newspaper and how that determination breaks from one being a "paper of record," a coveted and profitable designation because a paper of record is where local governments publish paid legal notices.
Medill researchers noted the import and income that comes with being a paper of record, but it chose different metrics for its map, consulting databases, state press associations, reports, surveys, and their own research and reporting, including by looking at what kind of output the publications they identified across the country actually produce. Researchers were "concerned with identifying local newspapers that provide public-service journalism" and looked to "ascertain if the paper covers local government meetings, such as school boards and county commissioner meetings."
I was interested in part of their methodology that referenced how local municipalities determine whether a publication is a "paper of record" — because that's what's at the heart of this Colorado newspaper war in question. Here's that methodology:
Many states and municipalities have different thresholds for determining if a newspaper is a "paper of record" and therefore eligible to carry legal notices. Often that threshold is based on circulation and distribution. We recognize that the income from legal advertising is very critical to small dailies and weeklies. Therefore, we can work with the executive directors and general counsels at individual press associations, if there are questions or concerns about the difference in our methodology (which is focused on news coverage) versus the threshold used by government officials to determine if a publication is eligible to receive legal advertising.
And that brings us back to Custer County and why the Medill map only shows one newspaper serving it.
While Medill did not identify newspapers by name on the map, Penny Abernathy, who oversaw the report, told me the Wet Mountain Tribune met its criteria. That choice blanked out the county's new-ish official paper of record, the Sentinel. (Abernathy says there are about two dozen or so newspapers spread out across the country that meet a state legislature's definition of being a paper that can accept legal advertising, based on circulation, but don't meet Medill's definition, which is based on content.)
Earlier this year, as this newsletter reported, the three members of the Custer County Commission voted 2-1 to discontinue the Wet Mountain Tribune as the county's "paper of record" and to give that designation to the Sentinel instead. (The Tribune had even submitted a less expensive bid. During debate on the issue, one commissioner said he found it hard to give the county's bid to a newspaper that is "for lack of a better term combative.")
George Gramlich, who runs the Sangre de Cristo Sentinel, has said he started the paper along with a local tea party leader with a goal to affect the county's politics and culture, and to keep tabs on local government. In an appearance on a radio show he took credit for changing the political makeup of the county commission by using the paper to attack incumbents he called RINOs — Republicans in Name Only — for their "liberal bullshit."
A successful 2017 recall election showed the new newspaper owner the power of local media, he said, adding that when he started the Sentinel, "we wanted to make a difference but we had no clue of the influence a local newspaper has on the local politics and culture." Furthermore, "we're not journalists, we're partisans," Gramlich said. "And we make no bones about it. We don't pretend to be journalists. But it's working for us."
That newspaper is now the paper of record for Custer County.
For his part, Wet Mountain Tribune Publisher Jordan Hedberg says he is planning to take the county commissioners to federal court over the matter, arguing the move has caused his newspaper financial distress. (He says the paper stands to lose about $15,000 a year, but is compounded because local attorneys' offices might not do business with the paper if it's not the paper of record.)
On June 30, Hedberg showed up to a meeting of the county commission and said he'd drop his plans for a lawsuit if the county gave the Tribune back its paper-of-record designation. He requested mediation before going to court, and the county commissioners voted 2-1 against it.
The July 8 edition of the Sentinel carried a front-page headline about Hedberg's lawsuit threat. The item, written by Gramlich, offers an unconventional recap of the county commission meeting. In it, the author refers to Jordan Hedberg as a "bug" multiple times — a "bad 'bug'," a "petulant 'bug'," "Jordy 'Red Bug' Hedberg" — and calls the three members of the county commission the musketeers or "the muskies."
This isn't the first time these two print publications rumbled over which one should be the "paper of record" for the small community that sometimes gets outsized attention. In 2015, when the Tribune was under the previous ownership of Jim Little, it fought the Sentinel for the same county designation as today.
From a Jan. 26, 2015 story in the Pueblo Chieftain:
The public will have an opportunity to voice their opinions during a public meeting slated for 9 a.m. Thursday at the Custer County Courthouse. "I cannot acknowledge the Sentinel as a newspaper. It is a political newsletter for the local Tea Party," Little said. "Based on Society of Professional Journalists standards, they simply don't qualify."

"We have a different ideology and we don't like to be politically correct," [Sentinel part-owner Mike] Hess said. "We are very conservative and he (Little) is obviously liberal, so it is understandable they don't like us. "But we are a newspaper — last week we had 24 pages versus the Tribune's 12 pages. We printed weekly for a year before we qualified to bid for the public notices," Hess said.

Colorado Press Association CEO Jerry Raehal said in order for a newspaper to be legal, it has to be in the county it serves, have published for 52 consecutive weeks, have paid subscriptions and a second-class periodical mailing permit. "That's technically it, so there is nothing in the law that states how a county should select its legal publication. It is merely at the discretion of that government entity," Raehal said.
The drama down in Westcliffe might also offer a local angle for the Medill researchers at Northwestern who are tracking the state of our nation's local newspapers. I understand they're currently working on an article about "the fight over legal notices" in newspapers and "why they are still needed in a digital world."
Here in Colorado, our Democratic governor, Jared Polis, has some thoughts on that.
An Estes Park journalist testified at the Jan. 6 hearings
Coloradan Jason Van Tatenhove made a splash this week when he testified on live TV from a witness chair during the Jan. 6 congressional hearings sporting face and hand tattoos and dressed in a jean jacket with band buttons and a punk-rock Descendents T-shirt.
The reformed Oath Keeper militia spokesman's appearance made all sorts of headlines, and in the days that followed he made the cable TV rounds giving interviews. In his written testimony to the commission members that he shared with this newsletter, Van Tatenhove introduced himself as a "journalist and author living in Colorado."
In his live testimony he spoke about his brief time with the far-right Oath Keepers and the dark worldview of right-wing militia movements. "I think we need to quit mincing words and just talk about truths," he told the committee about what happened on Jan. 6. "What it was going to be was an armed revolution … this could have been the spark that started a new civil war, and no one would have won there."
After defecting from the Oath Keepers, Van Tatenhove, 47, moved back to Colorado and took a job writing for the Trail-Gazette, a sister paper to The Denver Post based in Estes Park. (He was actually writing for the paper at the time a pro-Trump mob attacked the Capitol. The following day he penned an editorial in the Trail-Gazette headlined "What exactly is the 25th Amendment to the United States Constitution?")
Van Tatenhove eventually quit the hedge-fund-controlled newspaper and lobbed some bombs at it on his way out. He started a Substack site and podcast called The Colorado Switchblade. (He first landed on my radar in a virtual writers' group that Substack organized earlier this year.) In March, he spoke with this newsletter about the role of his local news site. He has a book coming out, "The Propagandist: Oath Keepers and the Perils of Extremism."
MSNBC host Joy Reid, who grew up in Colorado, interviewed him Wednesday on her show The ReidOut and asked how an artist and a "punk rock guy" wound up involved with the Oath Keepers. Van Tatenhove mentioned how he took influence from Hunter S. Thompson and the gonzo journalist's breakthrough book about the Hell's Angels, saying he thought he'd try to do something similar with the Oath Keepers. He wound up working for them.
"I will say, and admit, that I did get swept up in it for a bit," Van Tatenhove said. "And part of why I'm speaking out is because I want to communicate to other people that may have been swept up in similar rhetoric that there is an exit ramp, there is a way out."
Police want a Boulder newspaper to publish crime stats. But…
In a story this week at the Boulder Reporting Lab, John Herrick wrote this about a recent public hearing and the Boulder police chief, Maris Herold:
Public comment during the meeting was largely characterized by a desire for more awareness surrounding crime in Boulder. "Do me a favor, call up the Daily Camera and ask them if they will publish something for us. In Cincinnati, every paper…has crime stats," Herold said.

In recent years, many news organizations, including Gannett, one of the largest publishers of newspapers in the country and owner of the Cincinnati Enquirer, have sunsetted police blotters that document daily police statistics without context, and without following up to report on whether a person was innocent or convicted.
For what it's worth, Mitchell Byars, who covers courts, law enforcement, and breaking news for the Boulder Daily Camera newspaper, said Wednesday local police have "never made this request directly to us, and this is the first we are hearing of them pushing readers to ask for this."
The development is a good reminder about the ways some local news outlets (notably, not local TV outlets where the majority of Americans, typically older, get their local news) are re-thinking the ways they cover crime.
From an Inside the News piece at COLab from 2018:
For many local news organizations, police statements make an easy and formulaic way of filling their news holes — "feeding the beast," they call it. They might feel comfortable running information from these statements because they come from "official" sources. Early career journalists often start out working a newsroom's crime or breaking news beat relaying "news" from police blotters or department press releases. That's where I got my own start in reporting and I regret not being more thoughtful about it then. Reporters cite the police in these instances but rarely if ever talk to someone authorities accuse of a crime. Doing so would take a lot of time and effort. Police, on the other hand, tend to be easy to reach when they expect reporters will write from their perspective. And the beast needs feeding.
Such quick-hit, easy to assemble, one-source crime coverage for local news outlets in the industrial media digital age is also a boon for the bean counters. Online readers click on such stories, share them on Facebook, and rack up the views, which non-journalists in local news sales departments can show to advertisers as proof they can put eyeballs on products.
Byars told his audience on social media that the Camera does not publish the call logs and blotter items "as is" for a reason. "Without context and follow up, I don't believe the value of publishing this information outweighs the potential harms," he said. But the Camera's sister paper, the Times-Call, he added, does publish a blotter, "and it is routinely one of the most read items on the TC site. But I've been on the record questioning its value there as well." Good for him. (Not that he always gets his way.)
Recently, a story by Indianapolis Star reporters about a 10-year-old rape victim in Ohio who needed to cross state lines for an abortion in Indiana came under scrutiny because the reporting relied on a single named source — an obstetrician-gynecologist — and didn't carry confirmation from law enforcement.
When further confirmation of the story came to light this week, journalist Wesley Lowery had this reminder for critics: "not a fan of one sourced accounts from biased sources? just wait until you find out how most police reporting works!"
Registration open | Advancing Equity in Local News: 2022 Grantee Convening
This just in from Colorado Media Project, which underwrites this newsletter:
Whether you're a Colorado journalist, a student or faculty member, a librarian or teacher, an advocate or business leader, a funder or community member or civic leader – we invite you to join us for a unique convening designed to inspire your sense of what's possible for the future our local civic news and engagement in our democracy.
Register here.
WHY ARE WE CONVENING?

To learn, share, reflect and grow together. The primary goal of this convening is for CMP grantees from across Colorado to lift up what they're doing to advance equity in local news, to share what they're learning, to wrestle with big questions they're encountering, and to draw out new ideas for next steps. Every session is designed to be enlightening, thought-provoking, and inspiring – with a diverse mix of perspective and voices, including local journalists, national experts, community members and funders.

This convening is being designed for in-person attendance, though we will be streaming a handful of sessions live and recording some sessions. NOTE: If you are a current CMP grantee who needs assistance with travel costs, please note that on your RSVP . We will contact you with information as soon as it's available.
Find the schedule here. Organizers say they are "thrilled to be sharing a venue and collaborating with the Colorado Press Association's Annual Conference (September 15-17" and that more detailed session information will be forthcoming. "Space is limited – RSVP today to save your spot." The convening will be at the Lowry Conference Center at 1061 Akron Way, Building 697, in Denver.
A Crested Butte editor is trying (harder) to find out who wants books banned in Gunnison
In case you haven't heard, book banning is back in vogue.
What kind of ideology is pushing it these days? Consider the most frequently challenged books: They typically "have to do with LGBTQ topics or characters," are books that have to do with "sex, abortion, teen pregnancy or puberty," or that (ready for it?) "have to do with race and racism, or that center on protagonists of color," and (brace yourself) "have to do with history, specifically that of Black people."
Think you might have an idea of the kinds of people in your community who might be making these book challenges at your local libraries? Want to know for sure, though?
In Gunnison County, the editor of the Crested Butte News wants an appeals court to hear his argument that local librarians shouldn't be allowed to keep secret the names of people who are asking local libraries to ban or reclassify books.
From Jeff Roberts at the Colorado Freedom of Information Coalition:
In a notice filed last week, Mark Reaman asked the Colorado Court of Appeals to examine whether Gunnison County District Court Judge J. Steven Patrick erred in holding that Colorado's library user privacy law protects the identities of those who submit "Request to Reconsider Materials" forms to the Gunnison County Library District. Patrick ruled in May that the forms must be disclosed but with requester names and other identifying information redacted.
Rachael Johnson, who helps Colorado journalists pro-bono as part of her work for the Local Legal Initiative at the Reporters Committee for Freedom of the Press, is handling the appeal. "The public has a strong interest in knowing who has requested that books be removed from the Library District's collection, information which is highly newsworthy," she wrote in her notice of appeal.
Read the full background of this case here.
Denver TV station looks to relocate to RINO
Last year, this newsletter broke the news of a battle over brutalist architecture and the fate of a journalism building in downtown Denver.
Some community members wanted to preserve as a city landmark the headquarters of Denver's ABC affiliate, a five-story octagonal brutalist complex built in 1969, as its owner, E.W. Scripps Co, fought against it to cash in on a sale to developers. The community members lost.
Eighteen months later, the station, which goes by multiple names (Denver7, KMGH, or The Denver Channel) is looking to move into a new building in the RINO area, according to Thomas Gounley in BusinessDen. The new potential address is 2323 Delgany St., which the co-working company WeWork once leased.
"The move will represent the first major real estate shake-up in two decades among Denver's primary TV stations, which are all clustered within a mile of each other south of downtown," Gounley wrote. "The last change occurred in 2000, when KDVR/Fox31 moved into its building at 100 Speer, across the street from Denver7."
More Colorado media odds & ends
💨 Ana Campbell is leaving as editor of Denverite and moving to Texas to be closer to family, she said. There, she'll be "the first-ever audience editor for The Texas Newsroom," a collaboration among Texas public radio stations.
🎙KVNF Community Radio News Director Gavin Dahl is leaving Colorado's Western Slope to become executive director at KRCL in Salt Lake City, Utah. For the past 10 years he's been involved in the Rocky Mountain Community Radio coalition. "As RMCR begins its next chapter I think it's the most exciting moment in RMCR's history," he said about the network's expansion and getting its first managing editor. He called his move "bittersweet." Dahl formerly led the KDNK community radio station in Carbondale and served on the board of KGNU. His last day at work in Colorado is today.
💬 The Denver Post got a new commenting platform. Here's what the paper says readers should know.
🏆 Colorado Public Radio "earned five first-place awards from the Public Media Journalists Association, the highest number of first-place awards among the 100+ winning organizations," the station announced in a statement.
🔎 ProPublica's Local Reporting Network is seeking "five local accountability projects to fund and partner on from November 2022 through October 2023" if any Coloradan or newsroom wants to apply. "ProPublica will pay the salary (up to $75,000), plus a benefits allowance, for reporters at partner news organizations. Each reporter will spend one year tackling an investigative project that is important to their communities." Applications are due Aug. 22. More details here.
❌ In Wednesday's Rocky Mountain Media Roundup, I misspelled the surname of the regional editor for the Lee newspaper chain. It's Jeff Welsch.
🔟 Dave Perry, editor of Sentinel Colorado, wrote about his newsroom's decade after the Aurora theater shooting and the newspaper publishing its 1,413th story about it. In it he recalls healing (or not) and what he once learned at a journalism conference. "My fellow journalists talked about the grueling hours that follow disasters," he wrote. "This, in an industry that already mercilessly blurs the professional and personal lives of all its disciples."
🤷‍♂️ Democratic Gov. Jared Polis and his Republican challenger Heidi Ganahl "have mutually agreed to a single gubernatorial debate," reported Denver 9News anchor Kyle Clark. "No race for Colorado governor in the last 30 years has featured fewer than five debates."
🎥 "The federal appeals court covering Colorado and five neighboring states on Monday for the first time affirmed that the public's right to film police is protected under the First Amendment — a landmark ruling celebrated by press freedom organizations," Sam Tabachnik reported for The Denver Post.
🆕 Matthew Poust "will be taking over the Lead Reporter role at the Trail-Gazette for fellow member, Tim Mosier," Poust wrote for the Estes Park newspaper, adding, "Tim will stay on in a more limited capacity."
I'm Corey Hutchins, interim director of Colorado College's Journalism Institute. For nearly a decade I've reported on the U.S. local media scene for Columbia Journalism Review, and I've been a journalist for longer at multiple news organizations. The Colorado Media Project, where I write case studies, is underwriting this newsletter, and my "Inside the News" column appears at COLab, both of which I sometimes write about here. (If you would like to underwrite this newsletter like CMP and Grasslands, hit me up.) Follow me on Twitter, reply or subscribe to this weekly newsletter here, or e-mail me at CoreyHutchins [at] gmail [dot] com.