A report this week from a cluster of journalism advocacy groups paints a dire picture for the future of Colorado's news printing industry, and offers some potential solutions.
"For a number of years, local news publishers from across Colorado have raised concerns about rising costs, decreasing access, and quality challenges associated with commercial printing," reads part of its executive summary.
The paper, produced by Colorado News Collaborative, Colorado Press Association, and Colorado Media Project, which underwrites this newsletter, stems from a working group that spent months conducting research, surveys, and interviews across the state.
"These challenges were exacerbated by the COVID-19 pandemic, which spurred significant inflation that impacted the cost of printing, distribution and delivery charges, and the availability of paper," the report found. "The August 2023 closure of Gannett's commercial printing facility in Pueblo has only compounded matters in this difficult situation for Colorado publishers and printers."
👀 Here are some things from the report that jumped out at me (emphasis mine):
"Colorado publishers have experienced double digit year-on-year rises in printing and delivery costs, with the sharpest increases in the past two years. This has been exacerbated by decreasing supply of printing options across Colorado. The state's unique geography, with mountain passes closed over the winter, and distance from printers decrease the affordable options available to many publishers."
"Existing printers have indicated 'some' additional capacity to service new clients. Printers have faced sudden and sharp increases in raw costs (paper, ink, solvents etc.), which are being transferred to publishers."
"More than 80 Front Range publications were impacted by the closure of Gannett's printing facility in Pueblo. According to a survey of publishers impacted by the Gannett press closure, one title has closed as a direct result. Several others have indicated that they may switch to fully digital and/or cease all printed products. In at least three instances, publishers of multiple papers were forced to consolidate titles."
"The majority of publishers impacted by the Pueblo closure have identified alternative printing providers. These alternatives tend to be more expensive, temporary in nature, and further in distance from their circulation areas. If another printer in Colorado or an adjacent state were to close, a number of publishers have speculated that demand for printing services would likely far outstrip available supply. The concern is that this would create significant backlogs and potentially lead to the closure of a sizable number of titles."
"More broadly, several publishers interviewed by the working group said that any further closures risk the emergence of a negative domino effect in which the available supply of printing services would far outstrip the demands of publishers. In turn, this scarcity would lead to printing delays and could jeopardize the financial viability and continued operations of many titles."
Here's another key excerpt:
As of Fall 2023 (following the closure of the Pueblo printing facility), Colorado has seven printers within the state, and three in neighboring states that accommodate the majority of newspapers, including hyper-local publications and large metro dailies. Three printers located in adjacent states have absorbed the majority of Colorado publishing jobs since the Pueblo plant closure.
The working group offered three potential pathways to "help stabilize" printers in Colorado where they found the people who operate them are "optimistic":
"Forming a Cooperative for Printing and Delivery Services"
"Adapting to New Printing Formats"
"Printing Press Acquisition"
The report goes into detail about these potential pathways, including case studies from inside and outside Colorado.
The report thanked Rachel Pickarski, media partnerships manager at CPA, and Carol Wood, business innovation director at COLab for "interviews, research, convenings, and engagements" they conducted.
"The findings and results of this report support the continuation of the Future of Printing working group being led by CPA and COLab," the paper concludes. "In particular, the working group could serve as a forum for publishers to test, explore and self-organize around the three options for sustainability outlined in this report."
Read the whole thing here. If you want to learn more, the groups will hold an Oct. 13 Zoom discussion at 2 p.m.; sign up for it here.
Help map Colorado's independent online local news scene
Do you run a local independent digital news source in Colorado that produces original journalism — or have a particular favorite?
I'm working this fall on an initiative called Project Oasis to help LION Publishers connect Colorado's digital local news publishers with other indy outlets across the country. LION already has some of them listed on this map of outlets in the U.S. and Canada.
If your outlet isn't on the map and you think LION should include it, fill out this form.
Here are details about Project Oasis:
The project is an effort run through the UNC Hussman School of Journalism and Media, LION Publishers, Douglas K. Smith and the Google News Initiative. We're helping to identify local, independent online news organizations, and map them in a national online database. This is meant to increase visibility for those organizations, and help news entrepreneurs and researchers better understand local online news in the U.S. and Canada.
I'm also helping outlets in Utah, so you if you know any in our neighboring state, get in touch or send them this item.
Denver Post journalists get raises for the first time in 7 years
After more than a year of bargaining — and "blood, sweat & tears," one reporter said — members of the Denver Post's labor union ratified a contract that gives them bumps in pay.
The newspaper's Guild members landed a 3% pay increase that began Sept. 24 and will earn "another three percent increase one year later," Denver Newspaper Guild Administrative Officer Tony Mulligan said last Friday.
"This 6% pay increase also applies to the Denver News Guild's non-newsroom unit. The unit represents advertising and other behind-the-scenes work that fuels good journalism at The Denver Post," reporter Noelle Phillips said on social media.
Future hires will also come in at a higher pay scale, said reporter Joe Rubino who serves as the chair of the newsroom's bargaining unit.
"We want to make this a better place to work for the folks who are here now and the folks who will be here in the future," he said over the phone Wednesday. He described being "over the moon" about the news, but also noted that the cost of living in Denver has risen quite a bit in recent years.
Other Denver Post journalists promoted the news this week on social media.
"It was a long road to get here & I'm so proud of the results," said reporter Tiney Ricciardi who in December had organized a collaboration with a local brewery to bring awareness to the paper's organized labor fight.
Journalists at the paper have gone seven years without an across-the-board raise, they said. Clashes between the newsroom staffers and their hedge-fund owners, Alden Global Capital, have been legendary.
Denver Post journalists have rallied outside their own newsroom, protested outside their printing plant, and raised hell at the base of their owner's skyscraper office building in New York City. There was at least one TED Talk that included the word "revolution." And, of course, there was the Denver Editorial Rebellion of 2018 that galvanized the state's journalistic community and helped shape what Colorado's news and information ecosystem has become in the five years since. (Other states are now looking to what's happening here as a model.)
"The reason The Denver Post is so synonymous with the hardships of the journalism industry is because our bold union is so loud speaking out and speaking up," said reporter Elizabeth Hernandez.
Speaking of … Kieran Nicholson, a DP newsroom union force, has retired after 37 years
The first time I met Denver Post reporter Kieran Nicholson he was shouting into a bullhorn while standing on a bench outside the former headquarters of his newspaper in downtown Denver.
No, he wasn't hollering "Extra! Extra!" and hawking papers to passersby. He was leading a protest rally against the hedge-fund owner … of his own newspaper.
"We are here today to collectively ask the Post's parent company — DFM and Alden Global Capital — to accept the number of buyouts and not seek further job reductions through layoffs," he said through the megaphone.
The reporter then told the crowd of assembled members of the Post's newsroom labor union that he had recently celebrated his 30th anniversary at the paper. He clarified that "celebrated" might be too strong a term. He didn't get a card, a letter, a lunch or even an attaboy, he said. "No one noticed," he told the crowd. "Alden Global, which is a hedge fund headquartered in New York City — they didn't notice."
Nicholson then rattled off names of corporate executives to loud boos, saying the suits were too busy "stuffing their pockets on dollars made on the backs of our labor" to pay attention to what was happening at the Post.
On Nicholson's last day on the job this month, Denver Post reporter Joe Rubino, who now has Nicholson's former role in the newsroom union, called the outgoing journalist the "heart and soul of the Denver Post newsroom unit of the Denver Newspaper Guild."
Friends and colleagues have been wishing him well since, with one of them writing that while his retirement is "bad news" for the Post, it's "great news" for him.
Should Colorado Public Radio disclose its anonymous multi-millionaire donor?
Two weeks ago I wrote about why Colorado Public Radio isn't yet publicly disclosing the identity of a wealthy couple that gave the station $8.3 million for a new headquarters.
The station's president and CEO, Stewart Vanderwilt, said CPR plans to say who it is, but not for a while. In a phone conversation a couple weeks ago, he said the donor is "not a player" who would pose a conflict for the outlet's reporting while remaining anonymous.
"It's not a CEO," he said. "It's not someone who has an interest that they're trying to advance other than their belief in CPR and our role in society … there's absolutely nothing that creates some sort of conflict."
Colorado Public Radio reporters often write about anonymous political donations and why they matter, and also about efforts to shine more light on "dark money." Some journalism organizations, from the Capitol Press Corps to COLab and the Institute for Nonprofit News, encourage transparency and limit news outlets from joining or partnering if they don't disclose their donors. Following a recent story in Semafor about its funding, the National Trust for Local News, which has a presence in Colorado, is learning how previously unknown donors coming to light can cause some headaches.
So I'm curious what readers of this newsletter think about an influential statewide public media organization accepting a very large donation and holding off on saying who the wealthy benefactor is: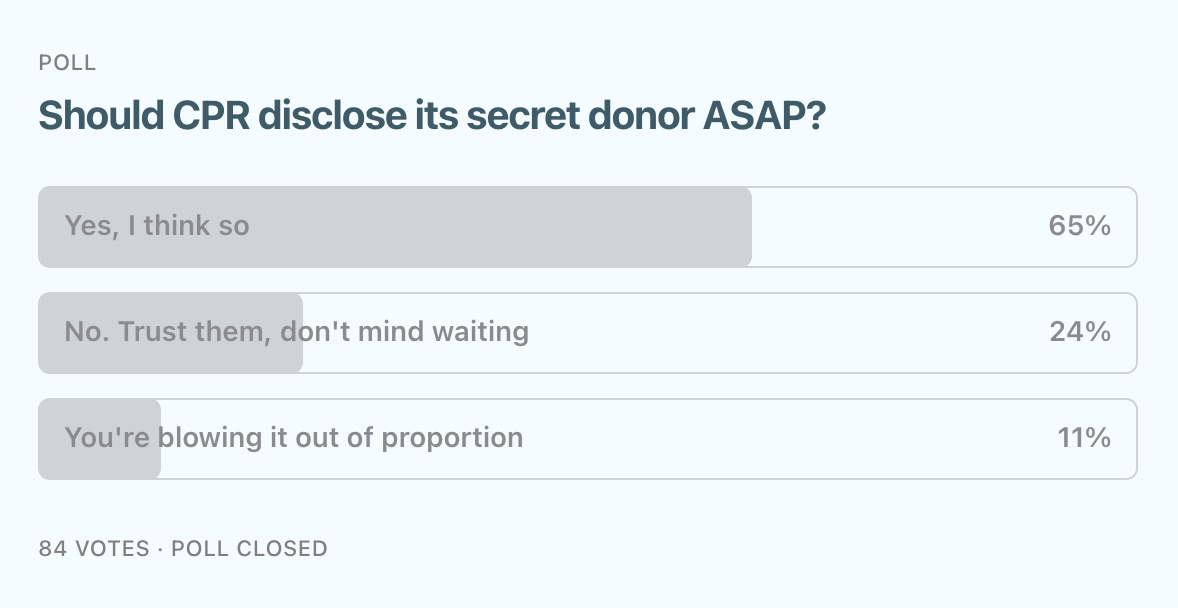 I don't think I can see who votes in these polls — maybe I can and just don't yet know how — but I haven't been able to see how individual people voted in the past. Take that for what's worth.
Ex-ACLU legal director's next act: sewer reporter
Mark Silverstein, who retired last year as legal director of the ACLU of Colorado, has entered a new profession — as a local newspaper reporter.
Over the summer he has embarked on a series for the Greater Park Hill News about a sewer pipeline project in the Green Valley Ranch area out near the Denver airport.
The newspaper's editor, Cara DeGette, wrote a column explaining the coverage. Green Valley Ranch, she wrote, has a population of 36,600, which is larger than Park Hill.
"Yet, Green Valley Ranch has no independent community newspaper to inform citizens of issues and events that impact their daily lives," she wrote.
She also offered the story-behind-the-story of how Silverstein sniffed out the sewer project series in question.
It turns out he's a birder, and on a trip to photograph some of his feathered friends he found "bulldozers had carved a swath of destruction through the trees and wetlands." So he did some digging of his own and found that Aurora is running a pipeline through previously protected open space, DeGette wrote.
The name of the newspaper series? "A Sewer Runs Through It." (Follow along here.) The reporting has had some impact in broader media, with the Denver7 TV station running a broadcast about it.
The station, however, didn't credit the Greater Park Hill News for busting the pipes open, and DeGette says she was disappointed in that — "especially when there was so much that went into this reporting."
More Colorado media odds & ends
🏆 Colorado's print and digital news outlets racked up awards at this weekend's annual Colorado Press Association convention in Denver. The outlets often report their own honors themselves, but I don't have the space to link to them all (fun fact: I have to be judicious about hyperlinks or this newsletter will cut off in your inbox.) But you can find the list of winners here. Congrats to all who partook.
👊 Colorado Press Association President and CEO Tim Regan-Porter said on LinkedIn about the annual conference: "The feedback has been just glowing. Several said to me, 'You really do program this like a leading national convention.' One of the national guests told me (and a bunch of others, I'm hearing): 'I've gone to a lot of state press association meetings over the years, and I can't recall attending a better one.'" Regan-Porter thanked "an amazing staff, partners, board, sponsors and speaker lineup."
👔 The nonprofit Pueblo Star Journal newspaper published an anonymous dispatch from a former Gannett employee that detailed a meeting earlier this summer when "two corporate stuffed shirts" announced the company would close the Pueblo Chieftain's printing plant.
🎙 For KGNU, Rossana Longo Better interviewed Juan Espinosa, editor of the La Cucaracha news outlet in Pueblo. (Click the Sept. 11 program to listen.)
💸 A library district in conservative Weld County "has agreed to pay $250,000 to a librarian it fired two years ago after she objected to the cancellation of programs for youth of color and LGBTQ teens, part of a legal settlement with the state that also requires the district to revise its policies to be more inclusive," reported Elizabeth Hernandez for the Denver Post. Attorney Iris Halpern told the paper it was a "'groundbreaking settlement,' saying it is among the first public settlements in the nation amid a wave of conservative pushback against LGBTQ- and race-related library books and programming."
⚾️ Joelle Milholm wrote a piece for Purple Row titled "This is why we need local sports journalism" that praised what Milholm called an "amazing, in-depth, and no-holds-barred four-part [Denver Post] series that dropped Thursday, explaining who the Colorado Rockies are and why."
🆕 The Ouray County Plaindealer moved into a new office across from the hardware store in Ridgway. "It's a good spot because you can see the old guys on the porch solving all the world's problems," co-publisher Erin McIntyre said. Colorado Newsline moved into a new office at COLab in the Buell Public Media Center in downtown Denver. "Newsline recently became a COLab member," the outlet reported, "and as of this month we're a COLab tenant."
✒️ Jan Wondra, editor of the nonprofit digital Ark Valley Voice, based in Salida, won this year's Colorado Press Association First Amendment Award at the organization's annual conference in Denver last week. "Democracy is worth standing up for," she said in her acceptance speech.
🗣 Read Colorado Media Project's new paper, "Reimagining Colorado's Public Square," that asks this question: "What does a healthy local news & information ecosystem look like in 2028 — and how do we get there?"
🛑 A Colorado judge "overseeing the first significant lawsuit to bar former President Donald Trump from the state's 2024 presidential ballot … issued a protective order prohibiting threats and intimidation in the case, saying the safety of those involved — including herself and her staff — was necessary as the groundbreaking litigation moves forward," the Associated Press reported.
📢 If you're a Colorado journalist, add yourself to the new Amplify Colorado directory to help you connect with more diverse sources.
🗳 Dave Gardner, who served on the board of Citizen-Powered Media, which publishes the nonprofit Indy alt-weekly in Colorado Springs, is (wait for it) running for president. The Indy carried this headline: "Local man announces presidential run." His platform: "We have got to shrink our footprint on the planet," he says, "and that means scale back our economy, go on an energy diet and contract our population."
📡 KRCC reporter Abigail Beckman, who is on the board of the nonprofit that puts on an annual conference,invites you to join public radio hosts at WAMU in Washington, D.C. for a professional development conference on "newscasting, burnout and news fatigue, being an authentic host, as well as producing better local breaks." The event will feature Jenn White, host of 1A, Korva Coleman, NPR's morning newscaster, and Scott Detrow, weekend host of All Things Considered, "along with other special guests to be announced in the coming weeks." The conference is open to public radio hosts and producers.
🗞📲 Colorado Community Media, which runs two dozen hyperlocal newspapers in the Denver suburbs, significantly upgraded its web presence this week.
I'm Corey Hutchins, co-director of Colorado College's Journalism Institute. For nearly a decade I've reported on the U.S. local media scene for Columbia Journalism Review, and I've been a journalist for longer at multiple news organizations. Colorado Media Project is underwriting this newsletter, and my "Inside the News" column appears at COLab, both of which I sometimes write about here. Follow me on Twitter, reply or subscribe to this weekly newsletter here, or e-mail me at CoreyHutchins [at] gmail [dot] com.