Rogue cops still licensed to work despite government reforms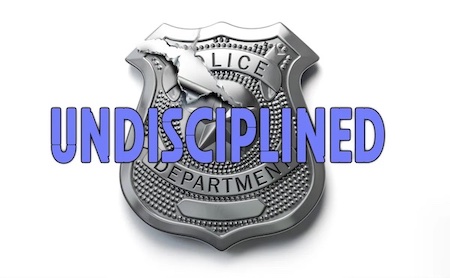 Sometimes journalism takes a village.
Brittany Freeman, then an executive producer at Rocky Mountain Public Media, started wondering last fall about police discipline in Colorado. More specifically, she wanted to know what never-before-seen data the state's Peace Officer Standards and Training (POST) board made public starting in 2022 shows about how officer misconduct is addressed statewide.
Hers was a question that no single newsroom could answer alone. So Freeman and RMPM Reporter Alison Berg teamed up with Andrew Fraieli, an investigative reporting fellow at The Sentinel newspaper in Aurora and Susan Greene at the Colorado News Collaborative (COLab), a nonprofit that works with more than 180 newsrooms statewide. Together, they spent three months and $3,832 – $2,000 of which funded by grants from the Colorado Media Project's Watchdog Fund – requesting internal affairs reports and other public documents about disciplinary actions against nearly 200 officers POST listed from January to December 2022. Zack Newman at 9News and Allison Sherry at CPR also contributed to that effort.
From there, Fraieli and Greene spent months combing through those documents and digging into related criminal justice records, news clips and other information to create a spreadsheet that news outlets and the public can use to learn about those officers. They also reviewed dozens of misconduct cases POST hasn't recorded, at least publicly. They then spent several more months reviewing legislative testimony and interviewing officers, their supervisors, misconduct victims and witnesses involved in those cases, speaking with state officials, police watchdogs and criminal justice scholars about police discipline, and analyzing what it all means for public safety in Colorado.
The result is this, the first story in a multi-newsroom collaboration we're calling "Undisciplined."
A Denver Police officer bragged to coworkers that he shot a carjacking suspect once in the head to kill him, then at least 16 times more to see his "face fall apart." They told investigators that he spent months trumpeting his second on-duty killing and saying he was eager for a third. Shane Madrigal resigned in 2022 while under investigation...
An officer labeled a "significant" liability risk by the Federal Heights Police Department in suburban Denver went on to work as a police sergeant in Platteville where he parked his cruiser on railroad tracks before a train rammed into it with a woman, handcuffed, trapped inside.  A Washington County sheriff's deputy fired for inappropriately pursuing women he met on the...
The Data Behind the Project
Good journalism requires facts, and facts often stem from data. The Colorado News Collaborative (COLab) and partners are committed to full transparency and to offering members of the public an ability to look for themselves at the data and documents at the foundation of our reporting.
Undisciplined: The data behind the project is a spreadsheet we hope Coloradans will use to look up rogue officers, see disciplinary actions among officers within their local police and sheriff's departments, and seek more information about the alleged misconduct of specific officers listed.
The tab called "2022 POST Disciplinary Actions – Documents" links to documents that came from our freedom-of-information requests to 103 law enforcement agencies. We asked for deeper information about disciplinary actions against officers that were listed on the Colorado Peace Officer Standards and Training (POST) board's database on one day, December 14, 2022. We realize it is merely a snapshot of nearly one year of police discipline, and that its scope is limited, especially because many law enforcement agencies denied our requests. Still, we are making public the fruits of our document requests for the 2022 timeframe we analyzed as a way to augment the limited information available on POST's database. 
The tab called "Updated POST data through October 18, 2023" is a direct download from POST's database taken on October 18, 2023. While it doesn't have links to background documents about specific cases, it does have more recent disciplinary actions than that in the first tab, and is more searchable than the state's POST database.
This project was made possible through unprecedented collaboration between dozens of newsrooms and journalists across the state, who are active partners in the Colorado News Collaborative, or COLab.
To support the statewide effort, donate to the Colorado News Collaborative.